March 3, 2016
Business
0 Comments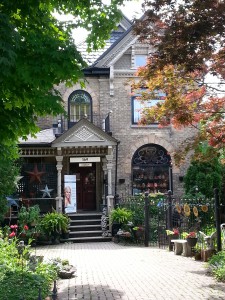 Heaven Scent & The Canadian Institute of Alternative Medicine
"London's Holistic Health Experts"
Given the Title of " The Clinic of Excellence"
Welcome to Heaven Scent and the Canadian Institute of Alternative Medicine. Our mission is to help you achieve your maximum health through natural and integrated means.
Our holistic health center is located in the heart of picturesque old south London. Wortley Village has a unique feel of a little heritage village inside the city. Enjoy quality professional holistic health services in our charming relaxed atmosphere in a century old heritage home.
Retail Store – With over two decades of retail store experience, our retail store carries a variety of gifts and products to enhance your life. Our store also offers customers a venue to ask questions about services and courses that we offer. Knowledgeable staff are here to serve you. We feature a professional  supplement dispensary since 1996. http://www.heavenscent.ca/heavenscent.htm
Aromatherapy – Professional and highly certified Aromatherapists are on staff to offer workshops and certification courses. Over 130 pure essential oils available. Custom Blending done for clients on site. Pre-blended synergies available for purchase. We carry a very large selection of bottles, pipettes, sprayers, pumps, roller bottles, deordorants, creams, butters, floral waters, bases, oils, atomizers, specialty items and ancillary products for beginners to expert levels.
Weight Loss Clinic – Authorized clinic for two weight loss programs including Ideal Protein and Pro Energy. We also offer 4 other weight loss methods because we realize that no one diet will work for everyone. Certified nutritional coaches will help and guide you to your goals. Direct billing available for insurance.  http://www.heavenscent.ca/weightloss.htm
School – Our federally certified school offers workshops, classes and certification courses for a plethora of topics from aromatherapy to reflexology. We teach in our gardens during the warm weather and also go off site to teach lunch and learns or workshops. http://www.heavenscent.ca/CIAM.htm
Integrated Medicine Clinic – Our alternative clinic offers a variety of healing services that considers the whole person – body , mind, spirit and emotions – in a quest for optimal health and wellness. According the holistic medicine philosophy, one can achieve optimal health – the primary goal of holistic medicine practice – by gaining proper balance in life. http://www.heavenscent.ca/clinic.htm  Our team ensures that you have a the finest service by offering a unique multi-disciplinary approach, combining a variety of natural healing methods to successfully treat today's health concerns. Rest assured that you will be in a safe, comfortable atmosphere; that all treatments are confidential and our primary focus is your well being.
Allergy Testing – One of our most popular assessments available for people of all ages. http://www.heavenscent.ca/allergytesting.htm Desensitization and other treatments available.
Detoxing Programs – http://www.heavenscent.ca/detoxprograms.htm
Most of our services are covered by Extended Health Care Insurance and we do offer direct billing. To book an appointment, please contact us at 519-433-3434 or http://www.heavenscent.ca/Forms/!book_treatment.htm
More Services offered can be found at http://www.heavenscent.ca/clinic.htm
Homeopathy – German trained, biological practitioner on staff to assist with homeopathy from Belgium and Germany. Lines like Unda, Pascoe, Heel and Sanum are available in the store. Consults available as well for people and animals. Practitioner qualified in German Bio Puncture available for treatments.
Acupuncture and Traditional Chinese Medicine – Licensed practitioner available. Direct billing available for most Insurance companies. Fertility and NeuroFunctional Acupuncture specialities. http://www.heavenscent.ca/acupuncture2.htm
New Age and Crystals – Large and current selection of singing bowls, crystal bowls, tingsha bells, meditation, mala beads, angels and fairies. Kama Sutra and Shunga. We offer many unusual, hard to find, crystals and jewellery. rough cuts, tumbled stones, pendulums, wands, witches balls, lanterns, statues, goddess, buddhas, geods, crystal balls and scrying supplies. Tarot, Grace cards and angel cards. Tuning forks, dowsing rods and supplies. Dream Salt Lamps in all sorts of shapes and sizes. USB salt lamps and SAD lamps available. Good Works and Jacqueline Kent jewellery and accessories available.  Books, DVD's, CD's, music and charts available. Garden Decor, concrete statues, wall hangings. Herbal workshops are held in our gardens during the summer months.
Pet Care – Our trained therapist offers acupuncture, homeopathy and German medicine for animals of all sizes, Biofeedback testing on site. Allergy testing. Bach and Bailey Flower Essences plus Orchid Essences for emotional issues. Essential oil blending and consults available. Omega Alpha (professional Vet line) of all natural remedies and supplements available in store or all animals. Workshops and Pet Days happen throughout the year.
Esthetics and Spa -Full esthetic services for men and women of all ages. Now featuring unique treatments like the Hydra Facial for resurfacing the facial skin without any down time. Non-surgical Face lifts using acupuncture. Foot care, advanced foot care, hand care, facials, waxing, cosmetic acupuncture, body massages, wraps, scrubs and more. http://www.heavenscent.ca/spa.htm Our preferred skin care line, Dermalogica, is available for treatments and also available for retail in our store. We also offer pure natural care skin solutions and make up customized skin care and treatments for services. If customers want custom blending or all natural products for their treatments, we can make everything here for them. To book an appointment, please contact us at 519-433-3434 or http://www.heavenscent.ca/Forms/book_treatment.htm
Special Events – Throughout the year ,we offer specials events and "pop-ups" in our store and gardens. Join our email list or "like us" on Facebook https://www.facebook.com/HeavenScentca/ Our calendar of workshops, certification courses is available on line. Most of our special events throughout the summer are sent out through social media and newsletters. If interested please sign up or call us. http://www.heavenscent.ca/Forms/newsletter.htm