Doing business in Canada's Best Neighbourhood!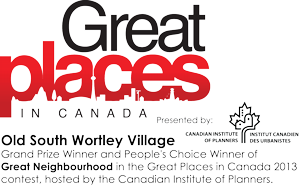 Being part of Canada's Best Neighbourhood (as named by the Canadian Institute of Planners in 2013) is just one perk of doing business in the city's Old South/Wortley Village area.
The Old South Business Association's members have long known that the area bordered by Wellington Road to the east, Wharncliffe Road to the west, Horton Street to the north and Commissioners Road to the south is a great place to work, eat, dine and play!
The OSBA is made up of 57 (and growing) area enterprises of all types: retail, hospitality and service. Some have bricks-and-mortar locations, while others are home based. All are united in providing the best possible products and services to our clients and customers.
Members meet at monthly breakfast meetings, held at the Idlewyld Inn.  Networking, information
sharing and professional development are highlights of each meeting. Two social events are held each year: a cocktail party during the holiday season and a summer golf tournament.
The OSBA is an integral part of the community, sponsoring several events that enhance life in Old South and Wortley Village such as: Halloween in the Village, Christmas in the Village and Wortley Village Jazz and Blues Festival to name a few.
Member benefits include: monthly member breakfast meetings, professional development, networking and discounts at some area retailers. Marketing opportunities include presenting at meetings, having listings in the annual directory (2016 OSBA Directory) and on the website and updates on the group's various social media platforms.
The OSBA's goal is to promote commerce among its members, and with other business and customers in the greater community. The business association works to promote Old South/Wortley Village as a prime location to live, work, shop and dine because it is Canada's Best Neighbourhood.
To become a member of this dynamic group:
Membership into the Old South Business Association is $250.00 per year.
Membership runs for the period of September 1 – August 31 each year.
Your membership fee, advertising fee, and the forms below (if signing up or modifying your existing listing) are due on or before October 31 each year.
Forward your membership and advertisement fee to the Attention of Robert Hill, Blue Caribou, 162 Wortley Rd, London, ON, N6C3P7.  Make cheques payable to Wortley Village Business Association or e-transfer to info@oldsouthba.ca
Complete the following forms: