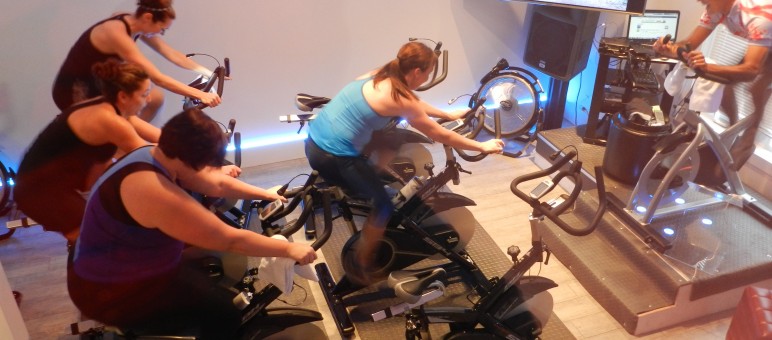 May 13, 2014
People
0 Comments
Owner: Shayne Hodgson
Communications: Monica Hodgson
Located: 80 Tecumseh Ave. East
Moved to Wortley Village because of the active and healthy community members and its reputation for spectacular living!
Business Sector: Health & Fitness
Business Description:
Pulse Spin Studio is a private Indoor Spin Bike facility in Wortley Village, London. Spinning at Pulse is safe, fun and affordable for beginners to elite athletes with instructional training by Shayne Hodgson, Triathlete and Personal Trainer.
Pulse Spin Studio Offers a Unique Service:
Pulse Spin Studio services indoor cyclists with one hour exercise sessions on indoor spin bikes. Members spin their way through each class to energizing music and video. Sessions are captivating, motivational and addictive! Our clean, modern and well ventilated studio features an amazing sound system and 60 inch LED video screen. Our top-of-the-line bikes are perfectly maintained, more comfortable than the rest of the bikes out there and each one has an individual cadence and heart rate computer attached to it. The studio is equipped with a restroom, shower, energy drinks for sale and complimentary filtered water and towels. Current classes include Beginners, Cardio and Intense.
Puslse Spin Studio supports the Community – We host a charity cycling team that anyone can participate in when we partake in local fundraising events for kid's charities such as the YMCA Sweat For Strong Kids Event.
How we support our community:
Pulse Spin Studio makes a promise every day to be a strong part of helping to improve their community. Pulse supports from volunteering and participating in festive events in the village (Halloween, Christmas, Gathering etc.) to fundraising for and participating in London charitable events to support the improvement of programs that help kids be more active in sports and leisure (YMCA Sweat For Strong Kids Charity Cycling Event).
Pulse Spin Studio Special Promotion:
New spinners to Pulse are welcome to visit and participate in the Spin Buddy Promo where two people can spin for $20. People can sign up online, create an account called My Pulse, pay for their Spin Buddy Promo and join us for a good sweat!
Pulse also offers special group rates for people that schedule a private session with one of our trainers. 6-10 people can spin in a private class and if 10 spinners attend, they spin for $10 each.
Prices, Class Schedule and Descriptions can be found online!
Website:  www.PulseSpinStudio.com
Social Media Links:
Facebook:  https://www.facebook.com/pages/Pulse-Spin-Studio/598561210187322?ref=hl
Twitter:  @PulseSpinStudio
YouTube: https://www.youtube.com/channel/UCaAiSbC246qQNRnd7gdobVQ
Instagram:  http://instagram.com/pulsespinstudio